WordPress 5.9: What You Should Know
WordPress 5.9 is out! We're so excited to tell you about all the amazing updates to WordPress 5.9, Josephine. It…
Unai Eguiguren - Published 2 years ago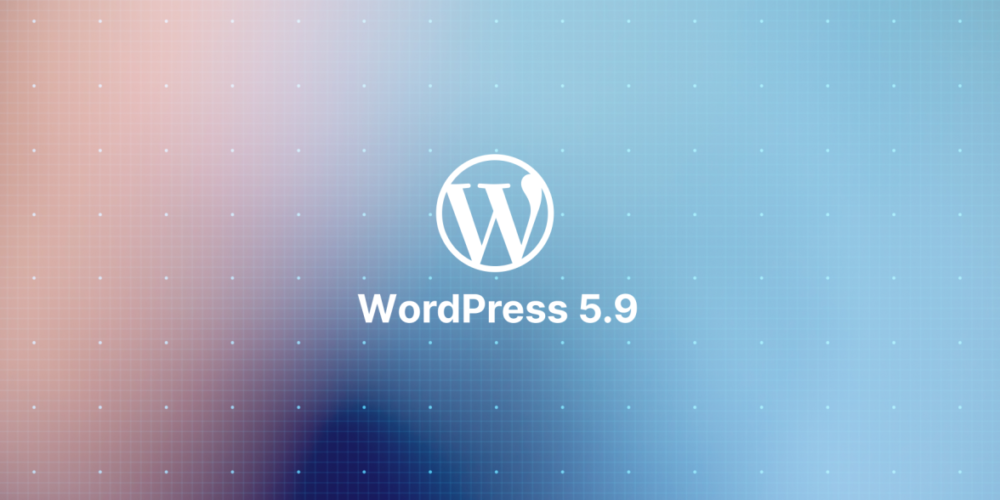 WordPress 5.9 is out! We're so excited to tell you about all the amazing updates to WordPress 5.9, Josephine. It was named after the famous international jazz singer Joséphine Baker. The version was released on January 25, 2022. It contains the largest Gutenberg update since the initial launch of WordPress 5.0. 
We are very excited because this means that Gutenberg is mature enough to meet the standards of developers who manage many websites at once. In this article, you will find the basic information you're looking for about the new update. 
Features of WordPress 5.9
Full site editor
One of WordPress 5.9's most significant changes is the full site editor. You can edit your entire site inside the editor using this new feature. In addition, the full site editor (introduced in WordPress 5.8) now has more features in WordPress 5.9.
So, developers no longer need to access Customizer, Menus, or Widgets from the Appearance menu to edit their sites. Here's something to keep in mind. If you do not use a block-based theme, such as Twenty Twenty-Two, the full site editor will not work. 
WordPress 5.9 New Theme (Twenty Twenty-Two)
WordPress 5.9 comes with a new default theme, Twenty Twenty-Two. The theme is also a game-changer since it has blocks by default, which is the first of its kind.
The Twenty Twenty-Two theme provides a high level of flexibility and customization. With WordPress 5.9, you can now test the new template editing flow, new blocks, interface enhancements, and all the new site editing features.
Related: The best free WordPress themes you can't afford to miss

More Options in the  Sidebar in WordPress 5.9
Adding a block and selecting the options option in the sidebar now offers more options in the new version. There are several options available to customize each block. But, they allow you to tweak the style and add more customization.
Many different elements affect the appearance, such as colors, widths, margins, padding, borders, and so on. You can also choose font families and other elements within the editor, which adds a lot of new typography options. Take a look at each block to learn about the new options.
Global Styles
With the Global Style interface, you can edit themes and style presets differently. In addition, this update makes it no longer necessary to make theme changes on admin pages as the Customizer is completely gone. 
The new graphical user interface makes it easy to customize the color palettes and layouts of your blocks. There's a handy preview feature to make sure you know how your changes will look before you apply them.
WordPress 5.9 Navigation Block
There are some big changes in how it is now possible to manage your navigation bar. This change makes navigation easier and better than before. The current version lays the foundation for a far more capable navigation editor to come. Yet, it already contains a lot of useful features.
Adding a new navigation block gives you several options. Among other options, you can import existing block-based data or create new data. Create an individual page's table of contents and re-use the navigation menus across your site. 
With this update, you can put your blocks of text anywhere on a page and make the text fit any way you want. You can also adjust the orientation, justification, wrapping, and padding.
Other notable features are language options during login, an improved gallery block, and new developer features.
Comparison of WordPress 5.9 With Previous Versions
As usual, WordPress makes core changes every so often, and they fix problems that people report in previous versions. The new WordPress 5.9 fixed 85 bugs, and here are some of the highlights.
Dark Mode Bug
With WordPress 5.9, the widget screen now appears correctly when using the dark mode. As a result of a bug, text appeared gray on a white background, making it difficult to read.
Shaking Screen on the Theme Page
A bug that appeared under "appearance" on the themes page has been fixed. Hovering over a theme thumbnail may cause the browser screen to shake.


Disappeared Reusable Blocks
There has been an issue with reusable blocks disappearing since WordPress 5.7. Though several suggestions exist for tackling this issue, WordPress 5.9 includes a permanent solution.
Security Issues
WordPress 5.9 includes several different security layers to increase security. In the previous release of WordPress 5.8, there were many security issues, which were all rectified in WordPress 5.8.3. WordPress 5.9 has now addressed all those security issues through a short-cycle security release.
Lazy Loading Images
WordPress 5.9 includes improvements to the core's lazy loading images feature. WordPress themes originally loaded images and iframes slowly so that images that aren't needed right now won't load at all. In WordPress 5.9, however, it has been modified to exclude the first images or iframes in the code from lazy loading. So now websites don't have to wait so long to open.
Manage Your WordPress 5.9 With Wonsta
Wonsta is a service that offers WordPress hosting and website management software in one complete package. Wonsta is a cheap solution to web development that is perfect for freelancers. Additionally, it is ideal for companies that need to constantly maintain their websites but lack the resources to do so.
Wonsta allows you to manage all your WordPress sites from one place, providing you with all the features and support you would expect from a premium solution. Be it hosting or software, in Wonsta we have everything from backups and staging sites to performance monitoring and 24/7 customer support.
We can also migrate any of your websites with just one click. If you're using a content management system, you do not need to worry about incompatibilities, errors, or data transfer. We take care of this on our side, and it only takes a few minutes. Still, if you have any questions or doubts, our support team is available to help.
Summing up WordPress 5.9
WordPress 5.9 has minor changes to the interface and brings in some major improvements. Overall, WordPress 5.9 is one of the most stable versions from the past few years when it comes to back-end updates and new features being added. As WordPress gets better and better with every update, we recommend our clients to keep up with things!
To learn more about Wonsta and how we can help you, sign up for free today and get free migration for unlimited websites!